Green Streets
Green Streets is a program to increase urban canopy in Lawrence and Haverhill by planting trees that are provided to residents and property owners at no cost to them.

How the Program Works:

Contact us and tell us you're interested in getting a free tree! 
Groundwork Lawrence will visit you at your home to look at your yard and help you determine which tree would be best for your property.
During the planting season, we will plant your free tree! 
After the tree is planted you will receive instructions on how to care for YOUR new tree.
You enjoy having a new tree in your yard!
Check out this Health Impact Assessment of the Lawrence Green Streets Program
For more information email us or call us at (978) 974-0770, x7013
---
Benefits of Your New Tree: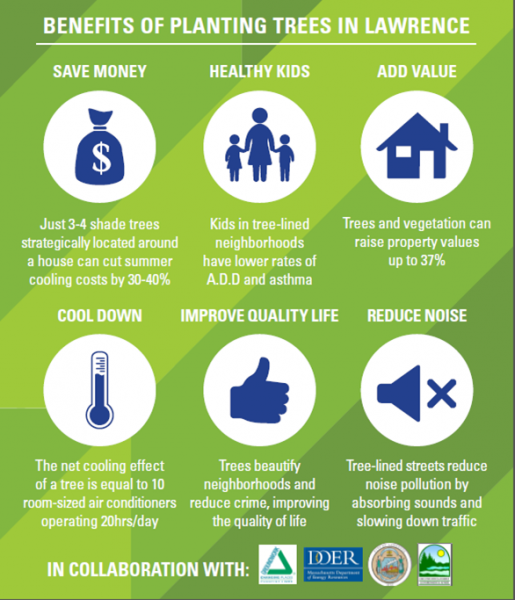 History:
In 2016, with support from the Massachusetts Executive Office of Energy and Environmental Affairs, GWL has embarked on a journey to plant 2400 trees in Lawrence over the next three years as a part of our Green Streets program. Since the beginning of funding, 85 trees have been planted in targeted locations including the South Common and Arlington neighborhoods. Planting trees in residential neighborhoods reduces energy bills, absorbs flood water, improves water quality, and reduces runoff and erosion.
Green Streets works to increase vital tree cover in Lawrence. By working with new homeowners who have front or side yards within 20' feet of a public way, we are able to plant trees that benefit the community and ensure that each tree has a steward. Groundwork Lawrence received seed funding for a small, pilot program from the MA Dept. of Conservation and Recreation's Environmental Justice Program to plant 18 trees in the spring of 2008.
In April 2009, we planted 60 trees with funding from The Home Depot Foundation and the MA Dept. of Conservation and Recreation and in 2011 we planted 50 trees with funding from the Massachusetts Environmental Trust and the MA Dept. of Conservation and Recreation. Once qualified, Green Streets participants received free assistance with selecting a tree and a suitable setback location, as well as technical assistance and volunteer support for a no-cost tree. Green Streets participants received bilingual technical information from Groundwork's certified arborist, including tools and tips for sustainable tree maintenance during a tree's first three years in the ground.
Additional Resources: